BLINDOCOM
chimney (PATENTED)
VIDEO SIMULATION OF THE WIND
"BLINDOCOM is a static chimney WITHOUT ENGINE"
DOWNLOAD THE VIDEO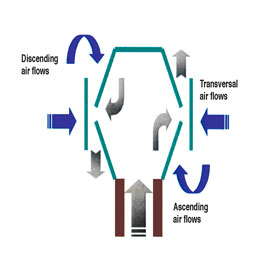 The system BLINDOCOM transforms turbulence and air currents, known to be unfavorable for the operation of traditional chimneys, in more favorable conditions for the natural draft, significantly improving the removal of smoke from a chimney. MORE WIND, MORE IT WORK !

BLINDOCOM, blind to the chimney by the action of winds, currents depressions and other weather conditions. Thus improving the expulsion of smoke EVEN WITH NO WIND!